666 Satan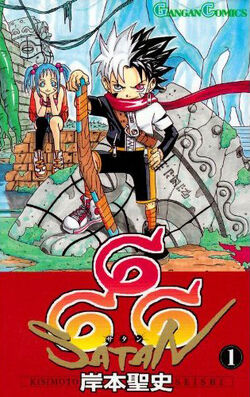 Information

Title:
666 Satan (O-Parts Hunter in America)
Author:
Seishi Kishimoto
Original Run:
2001 - 2007
Volumes:
19 (76 Chapters)
Genre:
Action, Adventure, Comedy, Drama, Fantasy, Shounen, Supernatural
666 Satan (666~サタン~, Roku Roku Roku Satan), also know in US as O-Parts Hunter, is a Japanese manga series published by Square Enix under its Monthly Shōnen Gangan imprint, and created by Seishi Kishimoto, the younger twin brother of Masashi Kishimoto, creator of the manga series Naruto. The series draws heavily on Kabbalistic traditions and Judeo-Christian demonology for its plot, and less so on Japanese folklore. It is licensed for an English language release by Viz Media, which released it under the title to O-Parts Hunter.
Plot
Ruby Crescent is an ordinary girl. Her life is changed dramatically when her father dies and she becomes a treasure hunter as he was. Her objective is to find O-Parts: magical items hidden in ruins which grant people superhuman powers and can only be used by an O.P.T. (O-Part Tactician), Angel, or Demon. She soon meets a mysterious boy named Jio who, due to having a dark, lonely past, seeks to conquer the world. Jio is hostile to her at first, but ends up travelling with Ruby as her bodyguard. When Ruby is attacked by an O.P.T. claiming to be Satan, Jio rushes to her rescue and a battle occurs. Initially they are on the losing side, but Jio releases his true power and is revealed to be not only an O.P.T., but the real Satan. Thus, the two continue to travel together in hopes of unlocking their pasts.
Volume Guide
Volumes
#
Release date
Volume
1
December 20, 2001
December 12, 2006
Volume 1
Cover Characters:

Synopsis: Jio is a young boy with a tragic past who only trusts one thing in the world: money. Little does he suspect that he is actually a very powerful O.P.T.s, and inside him sleeps a demon of incredible ferocity. He meets up with a girl named Ruby who, like her famous father before her, wants to become a treasure hunter. Though Jio doesn't believe in friendship, he agrees to be Ruby's bodyguard, and together they go on a dangerous quest to discover as many O-Parts as they can.

List of Chapters:
2
May 22, 2002
February 13, 2007
Volume 2
Cover Characters:

Synopsis: The government of Stea is on the hunt for a pair of rogue O-Parts users. Armed with a high-class piece of weaponry, this devious pair of lawbreaking brothers is ready to hit Stea's special squad with everything they have. Will an even more powerful O.P.T. be able to stop their violence? Later, Jio's past comes into focus when more is revealed about the origin of his unique O-Part and the identity of his master: a powerful wolf named Zero!

List of Chapters:
3
October 22, 2002
April 10, 2007
Volume 3
Cover Characters:

Synopsis: Jio and his new friend Ball, a member of the resistance group fighting against the corrupt Governor Jaga, are in deep trouble. They've successfully broken into Jaga's lair, but are they strong enough to survive a battle with the notorious criminal Wise Yury? Later, Ruby learns more about her father and the secret origin of the pendant he gave her before his mysterious disappearance. Could Ruby's seemingly unimpressive trinket actually be one of the most powerful O-Parts of all?!

List of Chapters:
4
February 22, 2003
June 12, 2007
Volume 4
Cover Characters:

Synopsis: His most prized O-Part now busted in two, Jio and Ball strike out to locate the only man who can help them: the mysterious and reclusive O-Parts appraiser Kirin. But when they arrive at Kirin's abode, a cotton candy-like canine greets them instead. Is Kirin, a being so feared for his strength that even the Stea government won't bother him, in fact just a puffy pooch? And will Jio and Ruby ever be reunited?

List of Chapters:
5
June 21, 2003
August 14, 2007
Volume 5
Cover Characters:

Synopsis: Jio's friend Ball always dreamed of being strong--strong enough to help the resistance movement stop the maniacal governor Jaga who has a stranglehold on his hometown, and strong enough to defend his friends and his sister. Now that he too is an O.P.T., it looks like Ball might stand a chance! Can he, a novice when it comes to O-Parts, defeat a powerful member of the Zenom syndicate single-handed?

List of Chapters:
6
November 21, 2003
October 9, 2007
Volume 6
Cover Characters:

Synopsis: To defeat the legendary O-Part Mexis, Jio was forced to make a dangerous pact with the evil spirit that dwells deep within his heart. Now that the time has come to resume his battle with the man responsible for shattering his old O-Part--Wise Yury, the Crimson Magician--will Jio's newfound strength aid him in stopping this powerful O.P.T., or will his eternal soul be lost in the process?

List of Chapters:
7
February 21, 2004
December 11, 2007
Volume 7
Cover Characters:

Synopsis: Now that peace has returned to Entotsu City, Jio, Ruby and Ball strike out for the Dastom Ruins where they are told to search for a man named Wick--but the revelations Wick is about to share with them will be anything but easy to swallow. Is it true that O-Parts are originally from another planet far, far away? And is Jio now strong enough to survive his next run-in with the ruthless Zenom Syndicate?

List of Chapters:
8
June 22, 2004
February 12, 2008
Volume 8
Cover Characters:

Synopsis: A chance encounter and a case of mistaken identity pit Jio and Cross against each other in a battle that almost seems foreordained--and though Cross is unaware of the creature lurking inside Jio's heart, he can't fight the strange feeling that they've met somewhere before. Will Ruby be able to intervene before these two formidable O.P.T.s tear each other apart?

List of Chapters:
9
October 22, 2004
April 8, 2008
Volume 9
Cover Characters:

Synopsis: The Olympia tournament has begun, and Jio is ready to do battle in the preliminary rounds! But his opponent Anna has some wily tricks up her sleeve...as does Ikaros, the leader of Rock Bird! The action heats up when the tournament moves to a spherical arena where participants can fight in zero gravity! Along the way, Jio meets some more of his fellow contestants, including the steadfast Kite and his ailing friend Yuria. Can Jio win the tournament and help his newfound friends?

List of Chapters:
10
February 22, 2005
June 10, 2008
Volume 10
Cover Characters:

Synopsis: Yuria's battle with Python Jack continues, and Python Jack seems to have the upper hand. But Yuria has a trick up her sleeve. Unfortunately, she may need to give up her soul to use it... Meanwhile, Jio bumps into a childhood friend--and some unpleasant memories--he thought he'd never see again. Have the demons of the past been laid to rest, or is there still bad blood between the two?

List of Chapters:
11
June 22, 2005
August 12, 2008
Volume 11
Cover Characters:

Synopsis: As the battle between Shuri and Jin intensifies, Anna and Kite remain imprisoned. Meanwhile, Jio and Ball prepare for their battle. Jio is an amazing O.P.T., and Ball is stronger than anyone expected...but their opponent is fierce. Will Jio have to rely on the dark power inside him in order to win?

List of Chapters:
12
October 22, 2005
October 14, 2008
Volume 12
Cover Characters:

Synopsis: Our heroes head off to save Ruby but are thwarted by two monstrous guards! Will Ball be able to hold them off while Jio charges to Ruby's rescue? Or will Jio fail his toughest test yet when he's forced to face his own true nature?

List of Chapters:
13
February 22, 2006
November 25, 2008
Volume 13
Cover Characters:

Synopsis: As the Olympia tournament continues, Jio squares off against Ikaros to save Ruby. It seems like a fair fight, but Ikaros is not what he seems. Will Jio be able to handle Ikaros's true form? Meanwhile, the Zenom Syndicate moves closer to completing the Reverse Kabbalah...and Cross arrives at Olympia to take his final revenge against Satan.

List of Chapters:
14
June 22, 2006
February 10, 2009
Volume 14
Cover Characters:

Synopsis: Although Ruby has succeeded in saving Jio's mind from the depths of Satan, her soul remains inside Satan/Jio's body. Realizing that Jio has come back, Cross decides not to kill him. But amid the turmoil, Ruby's pendant falls into Jio's hands...and Ruby's body (without her soul) falls into the Stea Government's!

List of Chapters:
15
October 21, 2006
April 14, 2009
Volume 15
Cover Characters:

Synopsis: Jio and his friends boldly set out to rescue Ruby from the Stea Government headquarters. Sneaking in is easy enough, but what will happen when they are forced to face their worst foe yet--Chief of Staff Dofwa--whom even Kirin and Amidaba have as yet been unable to defeat?

List of Chapters:
16
March 22, 2007
June 9, 2009
Volume 16
Cover Characters:

Synopsis: After destroying Miko's robot body, Jio reunites with Ruby. They join with Ball and their other friends to search for the headquarters of the Zenom Syndicate, which has been making progress in capturing the Demons of the Reverse Kabbalah. However, little do they realize how all-consuming their search will become!

List of Chapters:
17
June 22, 2007
August 11, 2009
Volume 17
Cover Characters:

Synopsis: Swallowed by Nehema, the largest of all Demon Recipes, Jio and his friends make their perilous way through the various ruins and monuments they find inside. Meanwhile, Kirin comes face to face with his nemesis, his twin brother Kujaku, and the reason for the enmity between these siblings is revealed!

List of Chapters:
18
October 22, 2007
October 13, 2009
Volume 18
Cover Characters:

Synopsis: Separated into various groups and confronting a variety of threats, Jio and his friends hope they're reaching the end of their struggle to break the Zenom Syndicate. It's been a tough final push, and as they know only too well, no fight is over until it's over!

List of Chapters:
19
February 22, 2008
December 8, 2009
Volume 19
Cover Characters:

Synopsis: The leader of the Zenom Syndicate has acquired the Kabbalah and the Reverse Kabbalah, and he is very close to realizing his dream of completing them. Miko, leader of the Stea Government, sees her dream of ultimate world unification about to come true as well. Both, however, face an ultimate challenge from Jio and his alter ego, Satan!

List of Chapters:
Ad blocker interference detected!
Wikia is a free-to-use site that makes money from advertising. We have a modified experience for viewers using ad blockers

Wikia is not accessible if you've made further modifications. Remove the custom ad blocker rule(s) and the page will load as expected.